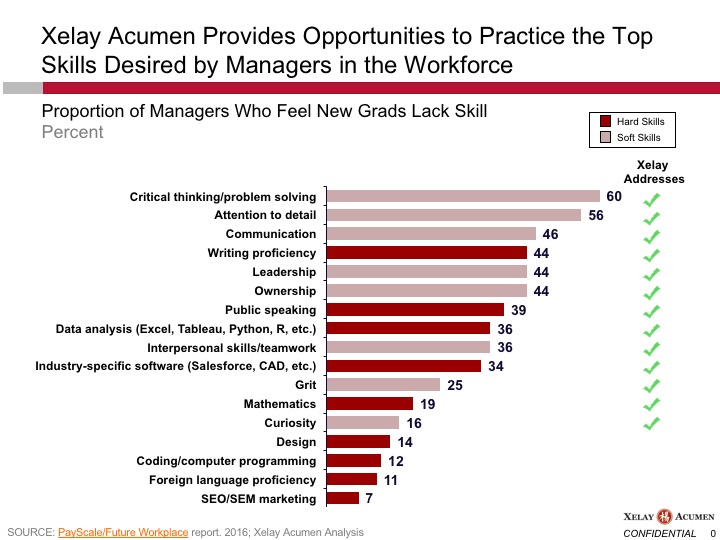 At Xelay, the consulting role demands a high degree of responsibility, a complex set of interpersonal and technical skills, and an ability to respond deftly to the client's rapidly changing needs.
Intensive, fast paced, and frequent training sessions enable Xelay to rapidly develop and reinforce management and consulting skills throughout the firm. The training specifically aims to allow all Xelay consultants regardless of their level of mastery of the consulting skill set to practice real world client engagements and presentations and lead in a competitive team environment.
At Xelay we believe our greatest asset is our people. As such, we take pride in our invested mentorship program. Each quarter, Xelay team members are paired with mentors to ensure rounded growth and development.
Through a wide variety of clients spanning the healthcare, pharmaceutical, and biotechnology industries, each with their own unique culture and challenges, our team members gain a breath of experience. The opportunities to work on new problems both internally and externally contributes to the rapid growth offered at Xelay.
"Regarding the development I received at Xelay Acumen, I want to express my most sincere gratitude for all that I learned, including but not limited to the structured problem solving approach, effective communication skills, empathy for others, etc."
"It has been 6 months since my last day at Xelay, and I had the opportunity to work at a much larger global management consulting firm. However, I can say with confidence that after I left, 80% of my professional growth came from me revisiting the things I learned at Xelay. Looking back at my Xelay days, I regret how I did not pay enough attention and try my very best to master the skills taught by Alex and other senior Xelayers. Although you, current Xelayers, may not realize it now, those skills/mindset work anywhere in the world, and I guarantee you that you can easily become the top performer at any other firm if you learn them well. So try to believe and act the way Xelay teaches you to. I know it seems so incredibly difficult (sometimes impossible) for now, but you will be thankful after you leave."
"Looking back, I feel fortunate to have started my career at Xelay right after college. In 18 months I learned things that may take me years to learn elsewhere (most likely I will never learn them elsewhere). Soon I will start working at one of the oldest and most prestigious strategy & management consultancies, and the senior people there were surprised to see the skills I displayed during case interviews. I owe 100% of them to Xelay."
"As an alum I'm 2-3 weeks into my new role, and I'm already recognizing and enjoying the value of the skills I acquired at Xelay. I've been working closely with the executive team, and am receiving a lot of appreciative feedback for learning things quickly and being prepared for meetings, etc. I wholeheartedly thank Xelay for the countless hours of training and unfailing support."
"As a McKinsey consultant, I am awed by the super structured and efficient problem-solving, astoundingly CRISP and synthesized communication, and seamless cross-functional collaboration happening ALL THE TIME at McKinsey. It wasn't until I finished my first McKinsey study that I "truly believe" a lot of things learned at Xelay, which now gave me a HUGE head start and for which I am forever grateful."
"I wanted to thank you for all the coaching and mentorship you've provided me during my time at Xelay. Applying the technical and presentation skills that I learned in Xelay, I was able to impress not only my direct manager but also higher level executives including the Vice Presidents at Samsung Electronics. After completing just my third month at Samsung, I had the good fortune of being promoted to lead the business operations department of planning within the Galaxy Store. I'm convinced this would not have happened if it were not for the training I received in Xelay. I'm really looking forward to applying the leadership and management skills that I learned from Xelay in my new role. I sincerely thank you for all the training."